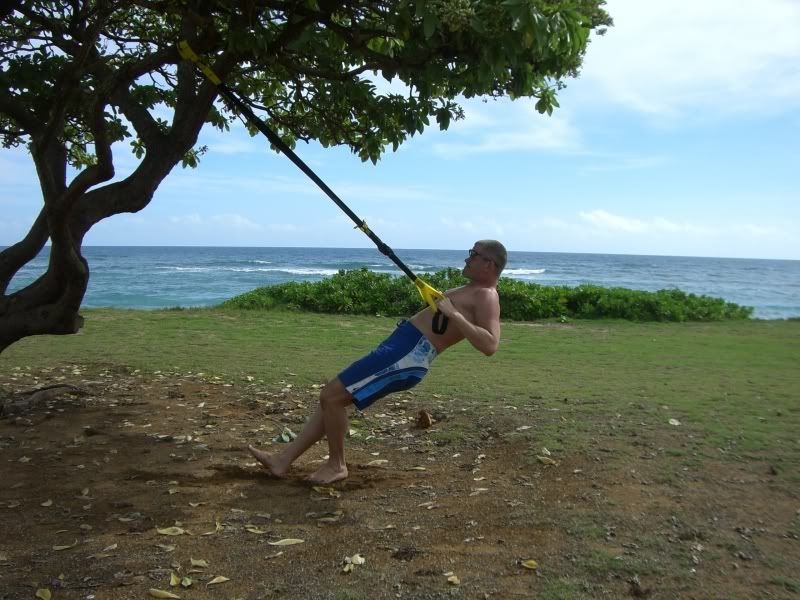 When I bought my TRX, one of the selling points for me was that it is portable. I had visions of taking my workout equipment with me when I visit the in-laws in Japan, particularly, where I can't run, can't swim, can't lift and can't ride my bike.

The test of portability came on a recent vacation to the lovely island of Kauai. We have a timeshare on the island and try to get there every year or so.

The first workout was done in the comfort of the master bedroom. It was stormy outside and I'd been cooped up all day and needed some activity so I slipped on the door attachment and told my family to knock loudly before entering the room. True to form, the TRX worked very well anchored to the door. I felt a bit constrained in the different environment, having walls so close, etc. but it would be very easy to get used to.


The second test came later in the week when the family decided to head to the beach for an afternoon. As we drove into the parking lot I was scanning for likely places to anchor and as luck would have it, this tree just happened to be in the right place at the right time. I wrapped the strap a couple of times around a limb and got down to business.

Aside from getting odd looks from locals and tourists alike, the system again performed to expectations. Easy to set up, easy to anchor and easy to use. I got in a great workout and then played on the beach with my family.

It is very rare that we get to travel with the same exercise equipment we use at home. My bicycle costs $100 to fly it one way, and I've never seen a hotel exercise room that can offer a wide range of resistance training equipment. At best they usually have some pathetic old machine which looks like it could be hazardous to one's health. With the TRX I have finally found my solution to exercise on the road.

As always, if you found this post to be helpful or informative, please use my link to get back to Fitness Anywhere. It costs you nothing but if you buy, I get a bit of a perk. Thanks!